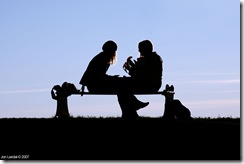 Last weekend I enjoyed a nice late autumn in the sun running amok with my camera. Among else I took a walk inside Akershus castle in Oslo
Two women where feeding a banana to a child on a bench inside the castle. The sun was pretty low when I took the picture. As you maybe can see from the picture the sun is somewhere to the right of the two women and the child.
I admit that I've removed a few twigs that entered the picture in the upper right corner. I hope that it isn't possible to see my little editing.